VAICACAO®
List Price
Discounted price
€8,00 EUR
Unit price
per
Promo
Sold Out
Siamo molto felici di poter condividere con voi questo tesoro dal nostro El Salvador. Ti presentiamo la nostra edizione limitata di questa pasta di cacao artigianale, realizzata con rare fave di cacao criollo bianco.
Questo cacao è stato coltivato con grande attenzione in un ampio sistema agroforestale rigenerativo, rispettando l'ambiente, i cicli naturali,

evitando l'utilizzo di prodotti chimici sintetici al fine di proteggere l'ecosistema e di chi vi lavora.
Noi crediamo nella bellezza del rituale del cacao e nel suo antico ruolo nella cultura mesoamericana. Per questo motivo, abbiamo creato una pasta di cacao con una texture grezza, ottenuta dalla spremitura a pietra dei semi di cacao. Questa pasta ti permetterà di scoprire un nuovo aspetto di questo alimento funzionale.
__________________________________________________________________________________
ingredients: fave di cacao "criollo" macinate a pietra 100%
[WITH NO ADDED SUGAR]
__________________________________________________________________________ABOUT THE ORIGIN OF THIS CACAO
Queste fave provengono da Copinol Escondido, una bellissima e piccola tenuta cui proprietario, Elmer Martinez, è sempre impegnato nella conservazione e riscatto delle varietà locali di criollo trovate sulla collina di Cacahuatique. Questa collina, situata sopra le città di Ciudad Barrios e Osicala nella provincia di Morazàn, deriva il suo nome dalla lingua Maya Quichè, che si traduce in "Collina degli orti di cacao". El Salvador ha sempre nascosto tesori unici, e questo cacao è proprio uno di quelli che si trovano poche volte, ma soprattutto vengono riscattati da persone visionarie, che fanno del loro meglio ogni giorno per poterle preservare.
LIMITED EDITION
_________________________________________________________________________________

Origine esatta: Cacahuatique, Finca Copinol Escondido, El Salvador
Traceability: Cacao acquistato direttamente in piantagione da noi
Varieties of cocoa: Genetica locale Criollo puro bianco (Testato con analisi del DNA)
Roasting: light and short
Processing: stone ground, untanned, untempered
Collection: September 2022
AROMA: Noci, mandorle, miele, nettare, macadamia
Bitter intensity: bassa o quasi assente
How it looks: in cubes. Due to its acriollada genetics, it has a light brown color (it is natural to notice whitish spots on the cocoa, especially in summer due to high temperatures - this effect is due to the crystallization of the cocoa butter).
Tailoring: Packaging in FSC certified paper (PAP81) - Confer in the paper
WHY DRINK PURE COCOA IN THE MORNING
A delicious and nutritious drink with our cocoa can replace coffee in the morning and contribute to the health of the nervous system, the cognitive system and the heart. It also contributes to strengthening the immune defenses thanks to the action of flavonoids, antioxidants present in cocoa. Cocoa is also considered a mood improver, that is it helps - thanks to the content of the amino acid tryptophan - to the production of serotonin, a hormone good mood, thus improving our emotional state. Cocoa contains neurotransmitters and molecules of bliss, as for anandamide, an endocannabinoid that is produced by our body, and which with cocoa is further stimulated, giving us a feeling of well-being and pleasure. You can drink it in the morning, during or after your meditation session, you can use it for holistic purposes, in cocoa circles to untie emotional knots, and introduce it into your diet with awareness.
HOW TO PREPARE IT:
Frantuma circa 15-20 g of cocoa according to your personal preferences, with the help of a knife. Heat some water (equivalent to a large tea cup - 180-200 ml) or if you prefer, use a vegetable drink of your liking.
Versa il cacao appena tagliato in un pentolino, e di poco in volta aggiungi l'acqua calda (non bollente, altrimenti altera il sapore del cacao e le sue importanti proprietà); mescolalo fino a scioglierlo completamente. Aggiungi l'acqua restante. Se non vuoi utilizzare il pentolino, puoi usare un frullatore o un semplice montalatte. La bevanda tradizionale è amara, ma se proprio non resisti, puoi aggiungere un dattero nel frullatore, oppure un po' di miele.
For a functional effect, an excellent solution is the use of medicinal herbs and spices, such as cinnamon, cardamom, red pepper, damiana, ashwagandha, turmeric, ginger and so on. In Mesoamerica, part of present-day Central America, cocoa is often made from a corn paste.
Servilo nella tua tazza preferita e poni le tue intenzioni.
NUTRITIONAL VALUES FOR 100 g
Energy: 2772 Kj, 657 Kcal
Fat: 52 g, of which saturated fatty acids: 33 g
Carbohydrates: 28 g, of which sugars: 1,1 g
Fiber: 14g, Protein: 14g, Salt: 0,01g
Potassium: 762 mg, Magnesium: 225 mg, Iron: 2,6 mg

RECOMMENDATIONS:

- Alcune persone sostengono che vi sia una "dose cerimoniale" specifica e che sia di 40 g per persona. Noi raccomandiamo invece di non superare i 30 g per persona. Nel caso di un uso giornaliero e continuativo, sarebbe più opportuno un uso intorno ai 10-15 g max. Altrimenti è bene farne uso a giorni alterni e in periodi diversi.
- Trattandosi di pura pasta di cacao, si converte in un vero e proprio alimento molto energetico; per tale ragione, va bevuto con consapevolezza e cautela, evitando gli eccessi, e prediligendo una dieta varia ed equilibrata.
- Consult your specialist if you are pregnant or have serious heart conditions.
- The stimulating and energizing effect of cocoa begins about half an hour after its intake. We recommend drinking a glass of water before and after to aid absorption and digestion.

TUTTI I NOSTRI PRODOTTI SONO
VEGAN FRIENDLY, WITHOUT LECITHIN, WITHOUT ADDED FLAVORINGS, WITHOUT PRESERVATIVES, WITHOUT MILK, WITHOUT GLUTEN
SHIPPING IN ITALY
Orders are processed within 1-3 days and shipped from our lab in Olbia, Sardinia. Shipping is gratuita solo per l'Italia oltre i € 60,00 con consegne con corriere in 2-4 giorni lavorativi (esclusi sabato, domenica e festivi). Per ordini inferiori a € 60,00 , il costo della spedizione standard è di € 4,99 ed Express di € 9,99. All shipments are strictly tracked.
International Shipping
Deliveries in Europe take approximately up to 3-7 working days after the dispatch of the parcel, but also for the United States and main cities around the globe. If you are based abroad Europe: please keep in mind it is your responsibility to pay any taxes or customs charges that may be incurred once the items arrive in your country. From our part, we will prepare all the documents and invoices needed for a smooth custom clearance. You'll receive the tracking number for your reference.
PRODOTTO ARTIGIANALMENTE CON AMORE IN SARDEGNA DALLE FAVE DI CACAO
Share
View full details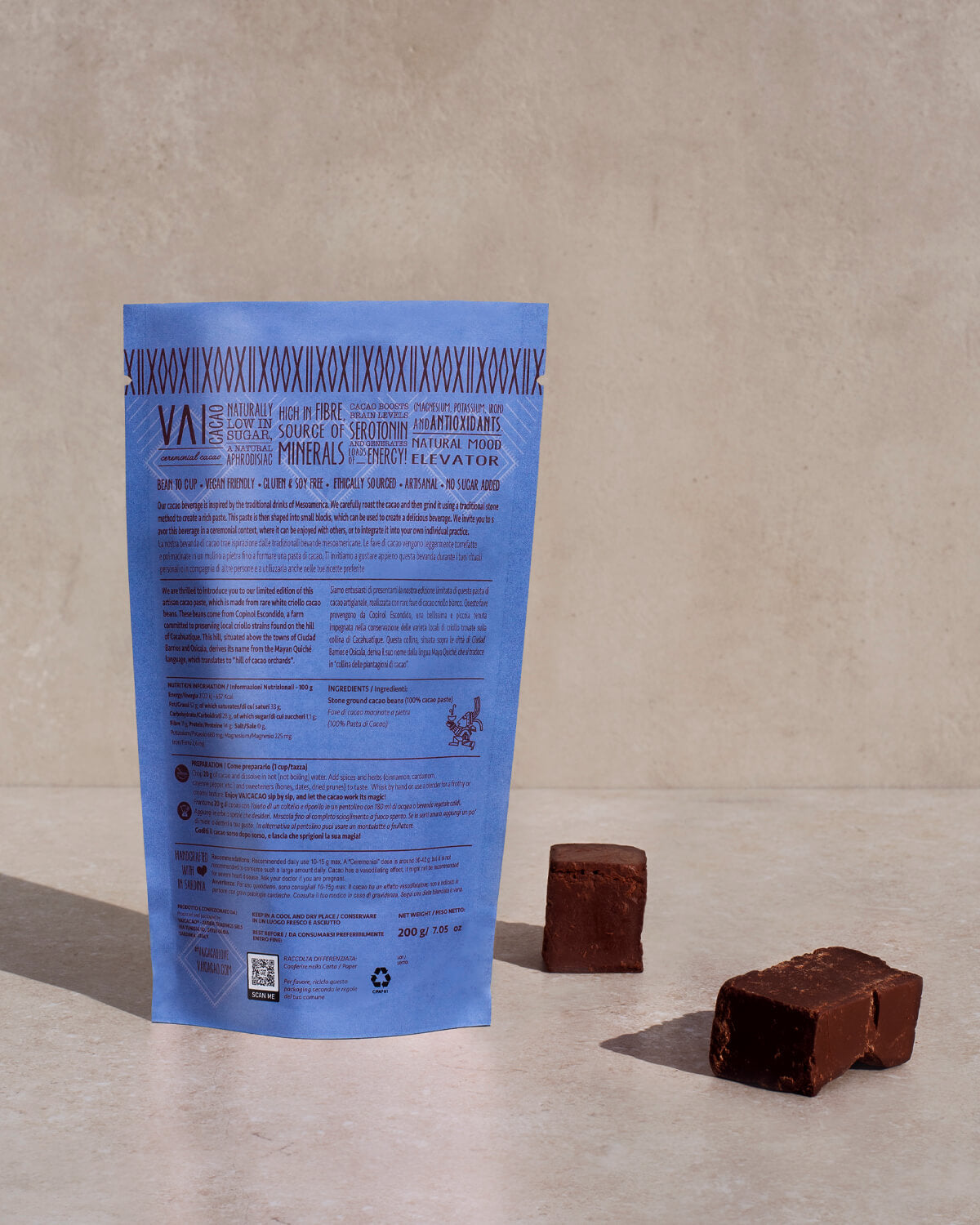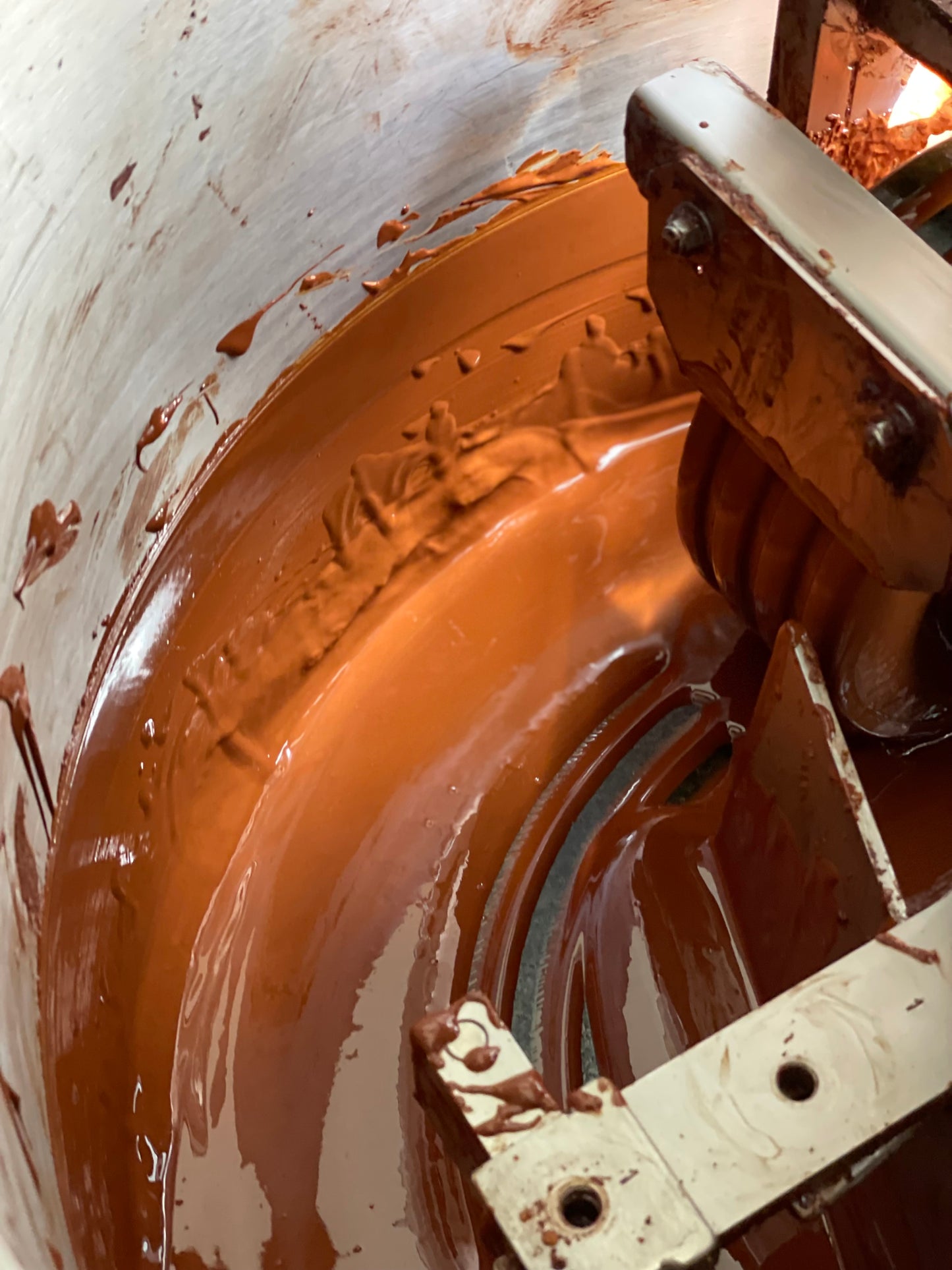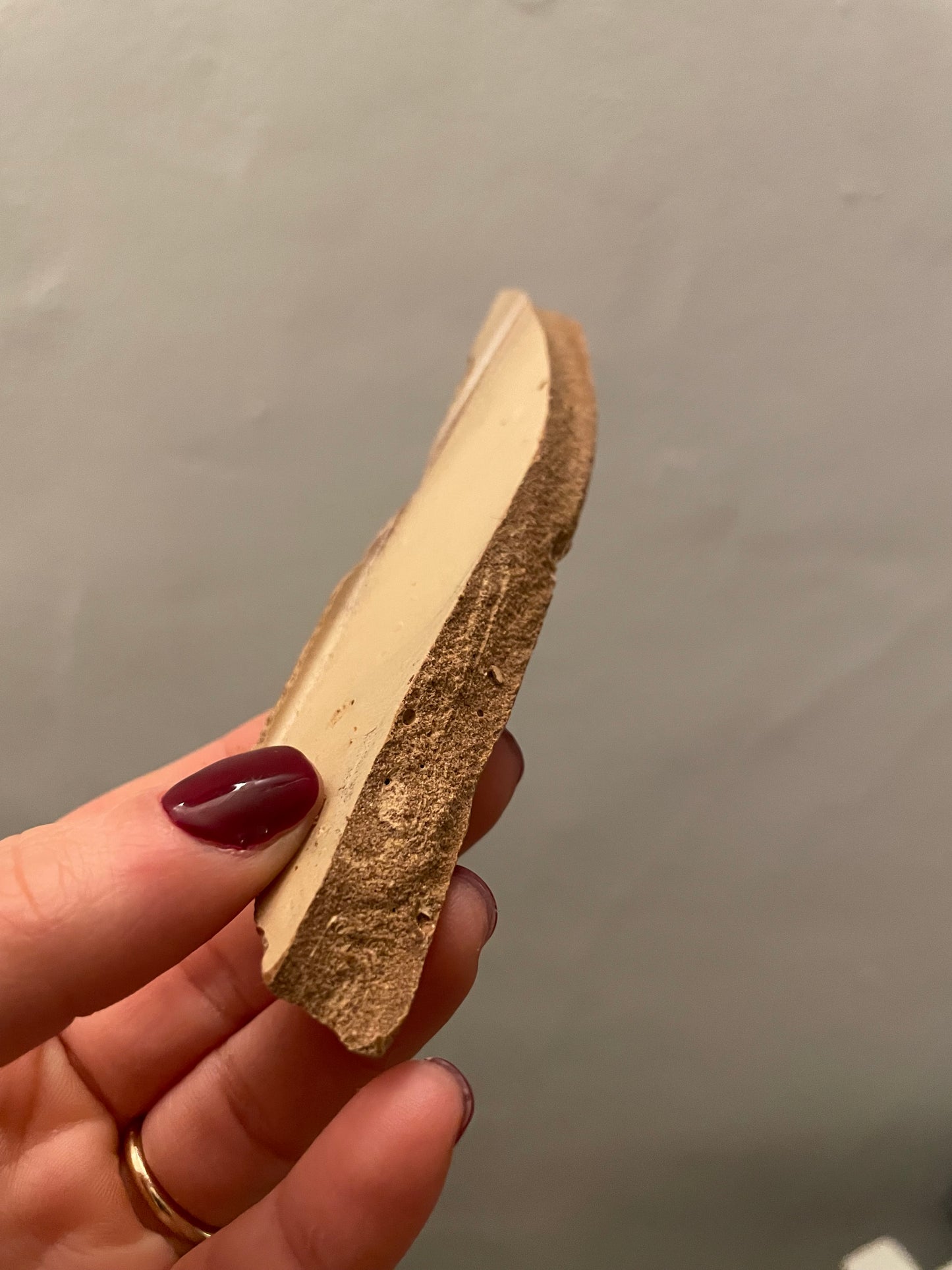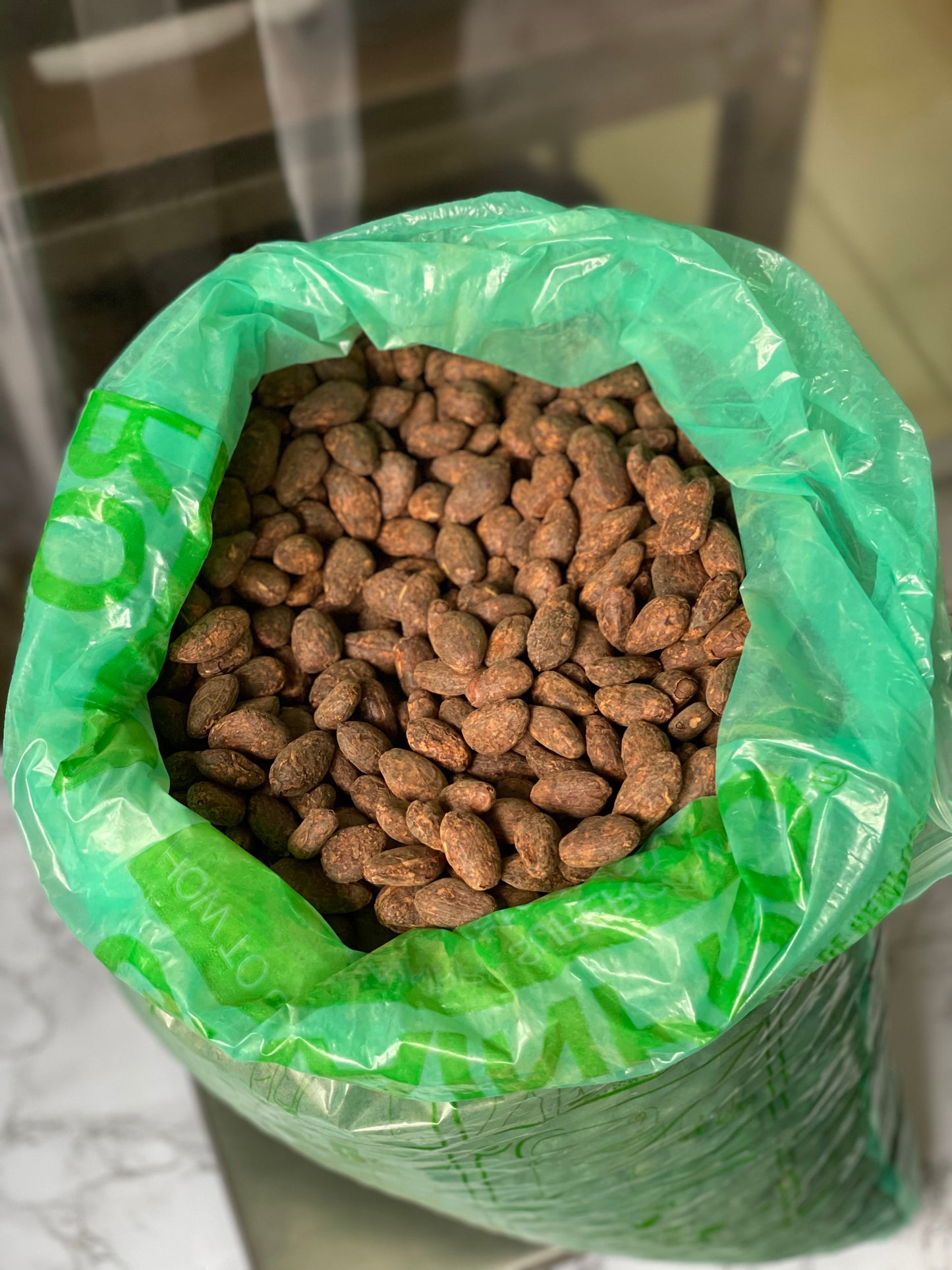 Healing
Ha donato molta cura e gentilezza
Buonissimo...
E' un Cacao deliziosissimo, particolare,il mio preferito...del mio cuore...
Best Ceremonial Cacao ever
For me this variety is the most delicious ever. It's very gentle and soft but still full of aroma and rich in taste, super creamy when melted. Much less bitter than the other ones, it really touches your heart like a warm embrace.