VAICACAO®
List Price
Discounted price
€14,90 EUR
Unit price
per
Promo
Sold Out
Single Plantation
Questo cacao è stato coltivato con grande attenzione in un ampio sistema agroforestale rigenerativo, rispettando l'ambiente, i cicli naturali,

evitando l'utilizzo di prodotti chimici sintetici al fine di proteggere l'ecosistema e di chi vi lavora.
Noi crediamo nella bellezza del rituale del cacao e nel suo antico ruolo nella cultura mesoamericana. Per questo motivo, abbiamo creato una pasta di cacao con una texture grezza, ottenuta dalla spremitura a pietra dei semi di cacao. Questa pasta ti permetterà di scoprire un nuovo aspetto di questo alimento funzionale.
_________________________________________________________________________
Ingredients: 100% stone ground cocoa beans
[WITH NO ADDED SUGAR]
_________________________________________________________________________
ABOUT THE ORIGIN OF THIS CACAO
We are very attached to this plantation because we saw it grow from day one, when JuanRa, co-founder of Vaicacao, encouraged his uncle Jaime and his cousin Roberto to plant theobroma cacao trees. There Finca di S. Fernando it is located in the Cordillera del Bàlsamo, in the municipality of Ateos, El Salvador. The cocoa trees grow luxuriantly and with respect for biodiversity, under a dense agroforestry roof. We are proud to let you try this unique cocoa in the world and we are deeply grateful for this important collaboration of intentions between those who grow it and us.
_________________________________________________________________________
Plantation: San Fernando Estate, atheos, El Salvador, Central America
Traceability: Cocoa purchased directly and transparently directly on the plantation
Variety of cocoa: Fino de Aroma - trinitario - acriollado
Roasting: light and short
Processing: stone ground, not concave, not tempered
Collection: December 2021 - March 2022
Revolutionary: dates, banana, ripe fruit, pineapple, vanilla, cashew nuts
Bitter intensity: medium
How it looks: in cubes. Due to its acriollada genetics, it has a light brown color (it is natural to notice whitish spots on the cocoa, especially in summer due to high temperatures - this effect is due to the crystallization of the cocoa butter).
Tailoring: Packaging in FSC certified paper (PAP81)
PERCHÈ IL CACAO PURO CERIMONIALE?
Una deliziosa e nutriente bevanda a base del nostro cacao può sostituire il caffè al mattino e contribuire alla salute del sistema nervoso, del sistema cognitivo e del cuore. Contribuisce anche al rafforzamento delle difese immunitarie grazie all'azione dei flavonoidi, antiossidanti presenti nel cacao. Il cacao è considerato anche un mood-improver, ovvero aiuta, grazie al contenuto dell'aminoacido triptofano, alla produzione di serotonina, l'ormone del buonumore, migliorando quindi il nostro stato emotivo. Il cacao contiene neurotrasmettitori e molecole della beatitudine, come l'anandamide, un endocannabinoide prodotto dal nostro corpo, e che viene ulteriormente stimolato con il cacao, donandoci una sensazione di benessere e piacere. Puoi berlo al mattino, durante o dopo la tua sessione di meditazione, puoi usarlo per scopi olistici, nei cerchi del cacao per sciogliere nodi emotivi e introdurlo nella tua alimentazione con consapevolezza.

PREPARA IL TUO CACAO E RITUALE PERSONALE
Taglia circa 20 g di cacao con l'aiuto di un coltello. Scalda dell'acqua minerale (equivalente a una tazza da tè capiente - 180-200 ml) o, se preferisci, utilizza una bevanda vegetale a tuo piacimento.
Versa il cacao appena tagliato in un pentolino e aggiungi l'acqua calda poco alla volta (non bollente, altrimenti altera il sapore del cacao e le sue proprietà); mescolalo fino a scioglierlo completamente. Aggiungi l'acqua restante. Se non puoi utilizzare il pentolino, puoi usare un frullatore o un semplice montalatte. La bevanda tradizionale è amara, ma se proprio non resisti, puoi aggiungere un dattero nel frullatore o un po' di miele o zucchero a tua scelta.
Per un effetto funzionale, un'ottima soluzione è l'uso di erbe medicinali e spezie, come cannella, cardamomo, peperoncino, ashwagandha, curcuma, zenzero e così via.
Infine, prepara il tuo spazio personale e servilo nella tua tazza preferita. Respira e crea le tue intenzioni per una meravigliosa giornata o per un pomeriggio rilassante.
NUTRITIONAL VALUES FOR 100 g
Energy: 2772 Kj, 657 Kcal
Fat: 52 g, of which saturated fatty acids: 33 g
Carbohydrates: 28 g, of which sugars: 1,1 g
Fiber: 14g, Protein: 14g, Salt: 0,01g
Potassium: 762 mg, Magnesium: 225 mg, Iron: 2,6 mg

SOME RECOMMENDATIONS:

☆ Alcune persone sostengono che vi sia una dose "cerimoniale" specifica e che sia di 40 g per persona. Noi raccomandiamo invece di non superare i 30 g per person. In the case of daily and continuous use, it would be more appropriate to use around 10-15 g. max. Otherwise it is good to use it every other day.
☆ Trattandosi di pura pasta di cacao, si converte in un vero e proprio alimento molto energetico; per tale ragione, va bevuto con consapevolezza e cautela, evitando gli eccessi, e prediligendo una dieta variata ed equilibrata.
☆ Consulta il tuo/la specialista in caso di gravidanza o in caso di gravi patologie cardiache.
☆ The stimulating and energizing effect of cocoa begins about half an hour after its intake. We recommend drinking a glass of water before and after to aid absorption and digestion.
ALL OUR PRODUCTS ARE:
VEGAN FRIENDLY, WITHOUT LECITHIN, WITHOUT ADDED FLAVORINGS, WITHOUT PRESERVATIVES, WITHOUT MILK, WITHOUT GLUTEN
SHIPPING IN ITALY
Orders are processed within 1-3 days and shipped from our lab in Olbia, Sardinia. Shipping is gratuita solo per l'Italia oltre i € 60,00 con consegne con corriere in 2-4 giorni lavorativi (esclusi sabato, domenica e festivi). Per ordini inferiori a € 60,00 , il costo della spedizione standard è di € 4,99 ed Express di € 9,99. All shipments are strictly tracked.
International Shipping
Deliveries in Europe take approximately up to 3-7 working days after the dispatch of the parcel, but also for the United States and main cities around the globe. If you are based abroad Europe: please keep in mind it is your responsibility to pay any taxes or customs charges that may be incurred once the items arrive in your country. From our part, we will prepare all the documents and invoices needed for a smooth custom clearance. You'll receive the tracking number for your reference.
PRODOTTO ARTIGIANALMENTE CON AMORE IN SARDEGNA, DALLE FAVE DI CACAO
Share
View full details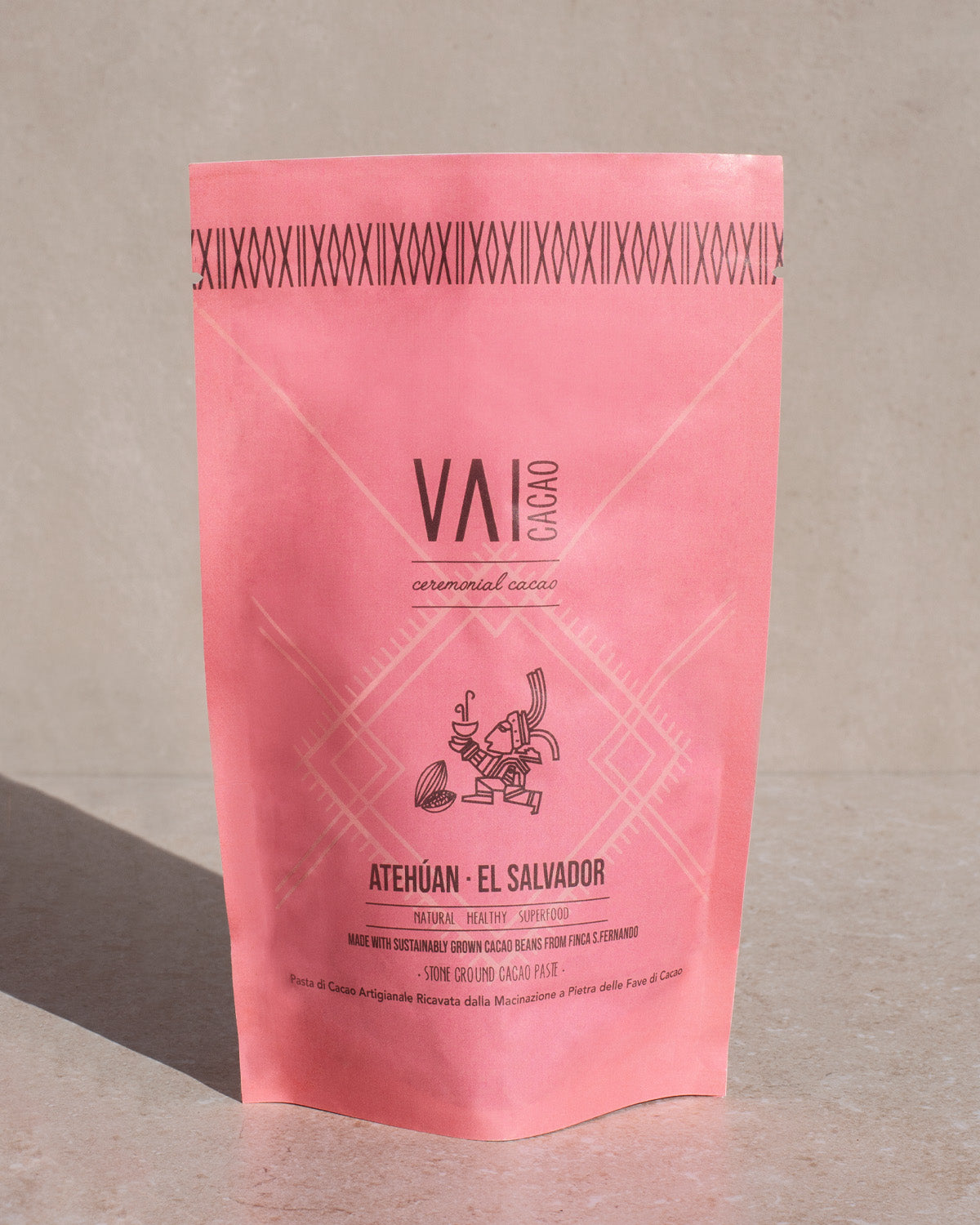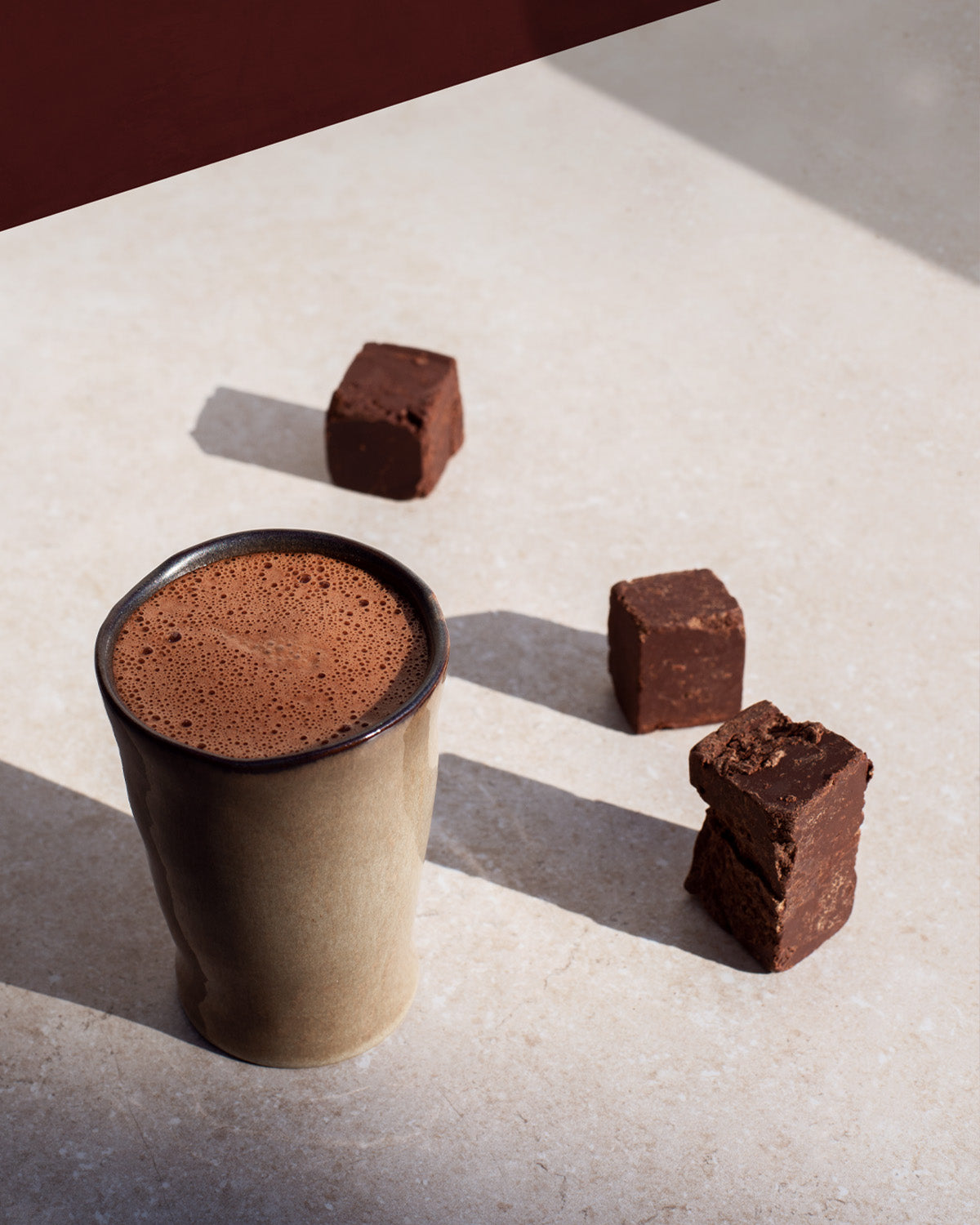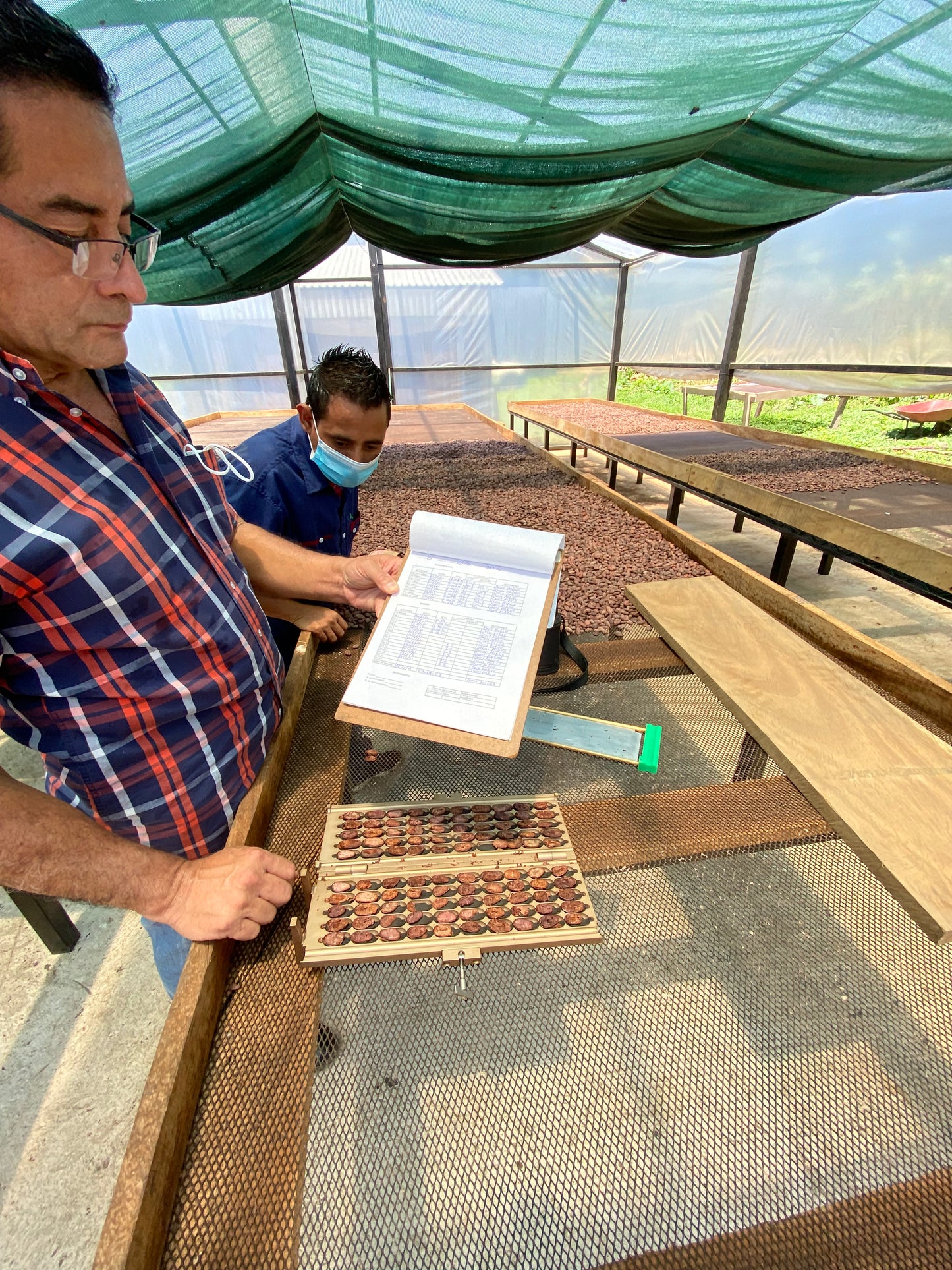 CEREMONIAL COCOA · ATEHUÀN, EL SALVADOR
CEREMONIAL COCOA · ATEHUÀN, EL SALVADOR
CEREMONIAL COCOA · ATEHUÀN, EL SALVADOR
Reminded me of home
I have been drinking ceremonial cacao for three years and I'm so happy I tried Vai Cacao. Lenca and Atetuan reminded me of the chocolate drinks I would order in El Salvador without the extra sugar or milk. It feels and tastes like home but transported to another time. I feel grounded and happy after I have a cup of cacao from Vai. Grateful for this medicine.
Amazing
As always..
VAICACAO is on the very top of cacao ecperience one can have. Atehuan is one of my favorites :)