VAICACAO®
Regular price
Sale price
€41,93 EUR
Unit Price
per
Salt
Sold out
Try our Ceremonial Cacao box experience!
You'll love it!
Single Estate and Single origin from Central America
Tasting different cacao origins in a single Box is a unique experience that allows you to discover the diversity of flavors and aromas that only high quality cocoa can offer. Try our selection of cacao from different regions and be surprised by the shades and nuances that each cocoa origin has to offer.
* Each pack has a net weight of 180 g / 6.35 oz (approximately 9 x 20 g cups or 6 x 30 g cups)
___________________________________________________________________
All the cacao in our selection have been grown with great attention, respecting the environment, natural cycles and the people involved. They were grown using agroforestry and regenerative systems, avoiding the use of synthetic chemicals to protect the ecosystem.

We believe in the beauty of the cacao ritual and its ancient role in Mesoamerican culture. For this reason, we have created a cocoa mass with a rough texture, obtained by stone pressing cocoa beans.
_________________________________________________________________________
Ingredients: Stone ground cacao beans (100% Theobroma Cacao)
* [WITH NO ADDED SUGAR]
_________________________________________________________________________
How it appears : in untempered cubes
Environmental information packaging: FSC certified paper (PAP-81)
WHY PURE CEREMONIAL COCOA?
A delicious and nutritious drink made from our cocoa can replace coffee in the morning and contribute to the health of the nervous system, cognitive system and heart. It also contributes to strengthening the immune system thanks to the action of flavonoids, antioxidants present in cocoa. Cocoa is also considered a mood-improver, that is, thanks to the content of the amino acid tryptophan, it helps the production of serotonin, the good mood hormone, thus improving our emotional state. Cocoa contains neurotransmitters and bliss molecules, such as anandamide, an endocannabinoid produced by our body, and which is further stimulated with cocoa, giving us a feeling of well-being and pleasure. You can drink it in the morning, during or after your meditation session, you can use it for holistic purposes, in cocoa circles to untie emotional knots and introduce it into your diet with awareness.

PREPARE YOUR PERSONAL COCOA AND RITUAL
Cut about 20 g of cocoa with the help of a knife. Heat some mineral water (equivalent to a large teacup - 180-200 ml) or, if you prefer, use a vegetable drink of your choice.
Pour the freshly chopped cocoa into a saucepan and add the hot water little by little (not boiling, otherwise it will alter the flavor of the cocoa and its properties); mix it until it dissolves completely. Add the remaining water. If you can't use the saucepan, you can use a blender or a simple milk frother. The traditional drink is bitter, but if you really can't resist, you can add a date in the blender or a little honey or sugar of your choice.
For a functional effect, an excellent solution is the use of medicinal herbs and spices, such as cinnamon, cardamom, chili pepper, ashwagandha, turmeric, ginger and so on.
Finally, prepare your personal space and serve it in your favorite cup. Breathe and set your intentions for a wonderful day or relaxing afternoon.
NUTRITIONAL VALUES PER 100 g
Energy: 2772 Kj, 657 Kcal
Fat: 52 g, of which saturated fatty acids: 33 g
Carbohydrates: 28 g, of which sugars: 1.1 g
Fibre: 14 g, Protein: 14 g, Salt: 0.01 g
Potassium: 762 mg, Magnesium: 225 mg, Iron: 2.6 mg

SOME RECOMMENDATIONS:

☆ Some people claim that there is a specific "ceremonial" dose and that it is 40 g per person. However, we recommend not to exceed 30 g per person. In the case of daily and continuous use, a use of around 10-15 g would be more appropriate. max. Otherwise it is best to use it every other day.
☆ Since it is pure cocoa mass, it becomes a real, very energetic food; for this reason, it should be drunk with awareness and caution, avoiding excesses, and preferring a varied and balanced diet.
☆ Consult your specialist if you are pregnant or have serious heart conditions.
☆ The stimulating and energizing effect of cocoa begins about half an hour after its intake. We recommend drinking a glass of water before and after to aid absorption and digestion.
ALL OUR PRODUCTS ARE:
VEGAN FRIENDLY, WITHOUT LECITINS, WITHOUT ADDED FLAVORS, WITHOUT PRESERVATIVES, WITHOUT MILK, WITHOUT GLUTEN
SHIPPING IN ITALY
Orders are processed within 1-3 days and are shipped from our lab in Olbia, Sardinia. Shipping is free only for Italy over €60.00 with courier deliveries in 2-4 working days (excluding Saturdays, Sundays and holidays). For orders under €60.00, the cost of standard shipping is €4.99 and Express shipping is €9.99 . All shipments are strictly tracked.
International Shipping
Deliveries in Europe take approximately up to 3-7 working days after the dispatch of the parcel, but also for the United States and main cities around the globe. If you are based abroad Europe: please keep in mind it is your responsibility to pay any taxes or customs charges that may be incurred once the items arrive in your country. From our side, we will prepare all the documents and invoices needed for a smooth custom clearance. You'll receive the tracking number for your reference.
HANDMADE PRODUCED WITH LOVE IN SARDINIA, FROM COCOA BEANS
Share
View full details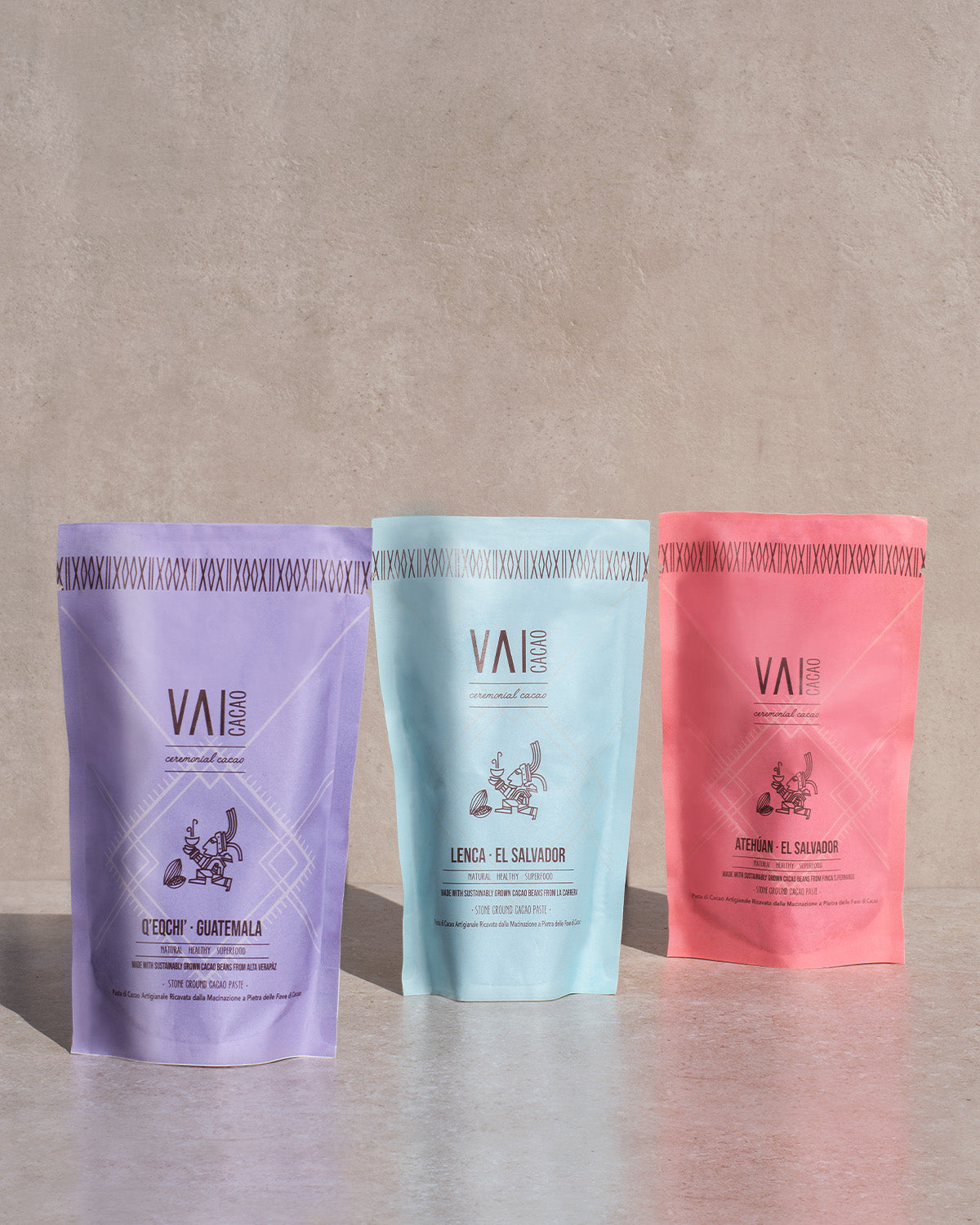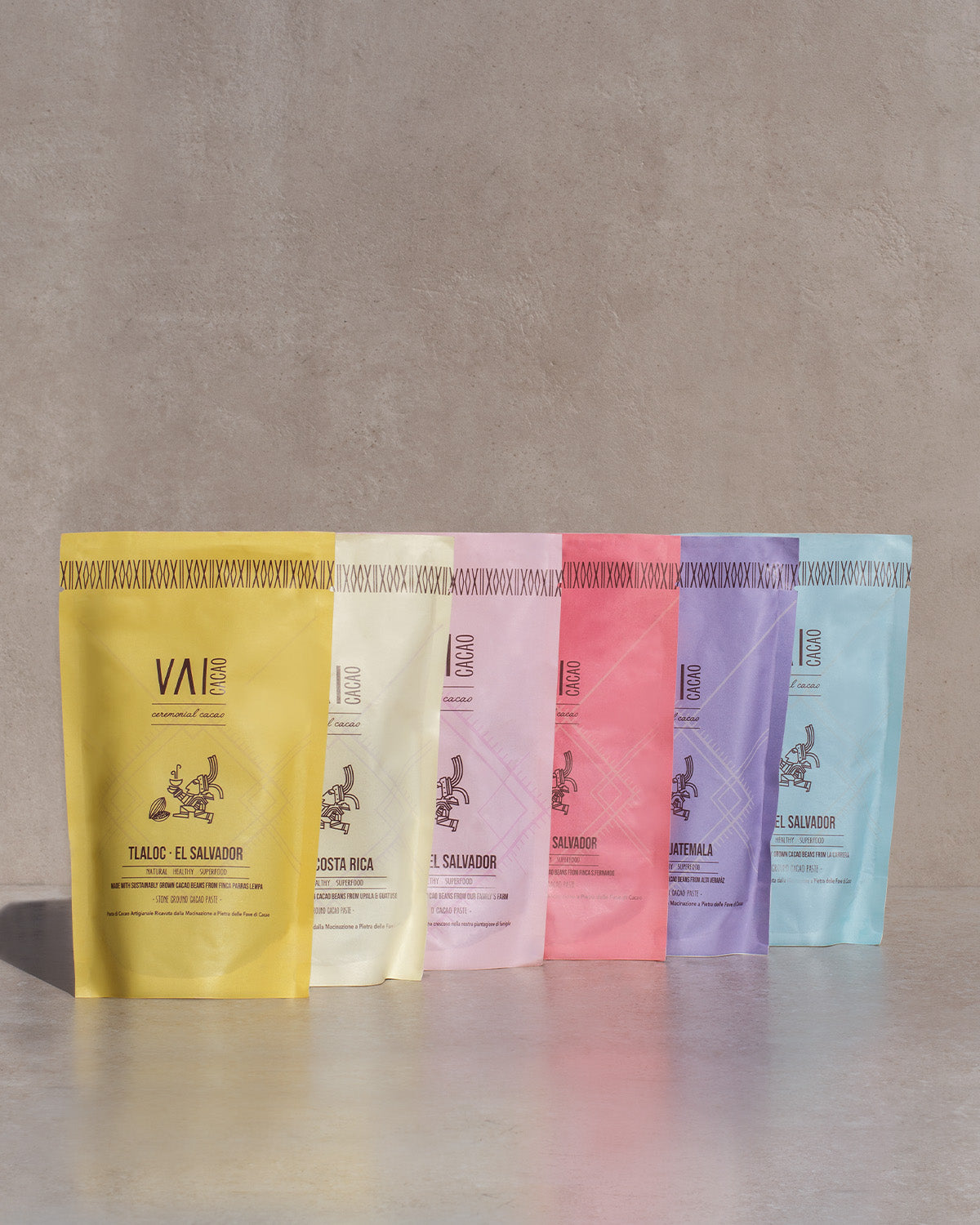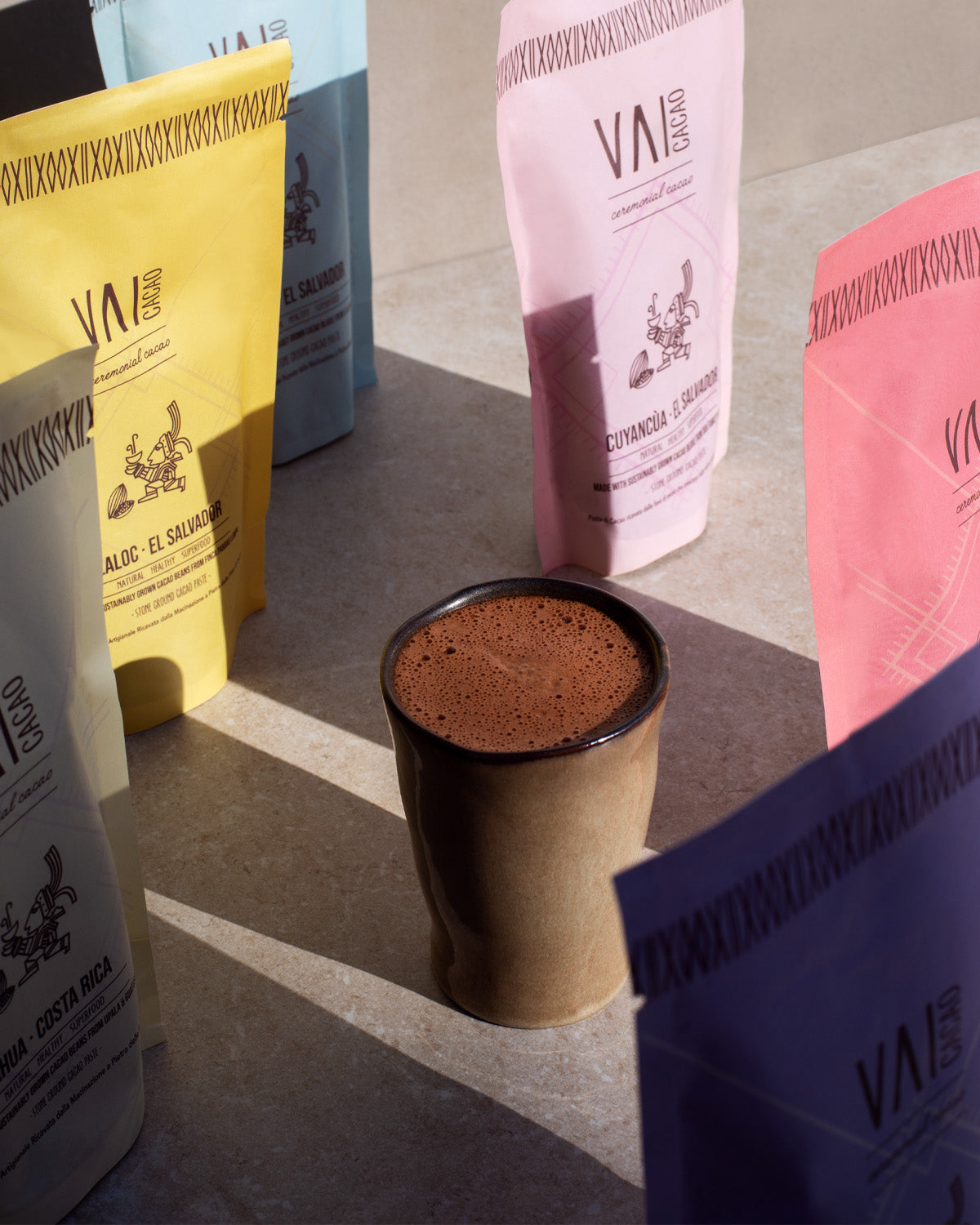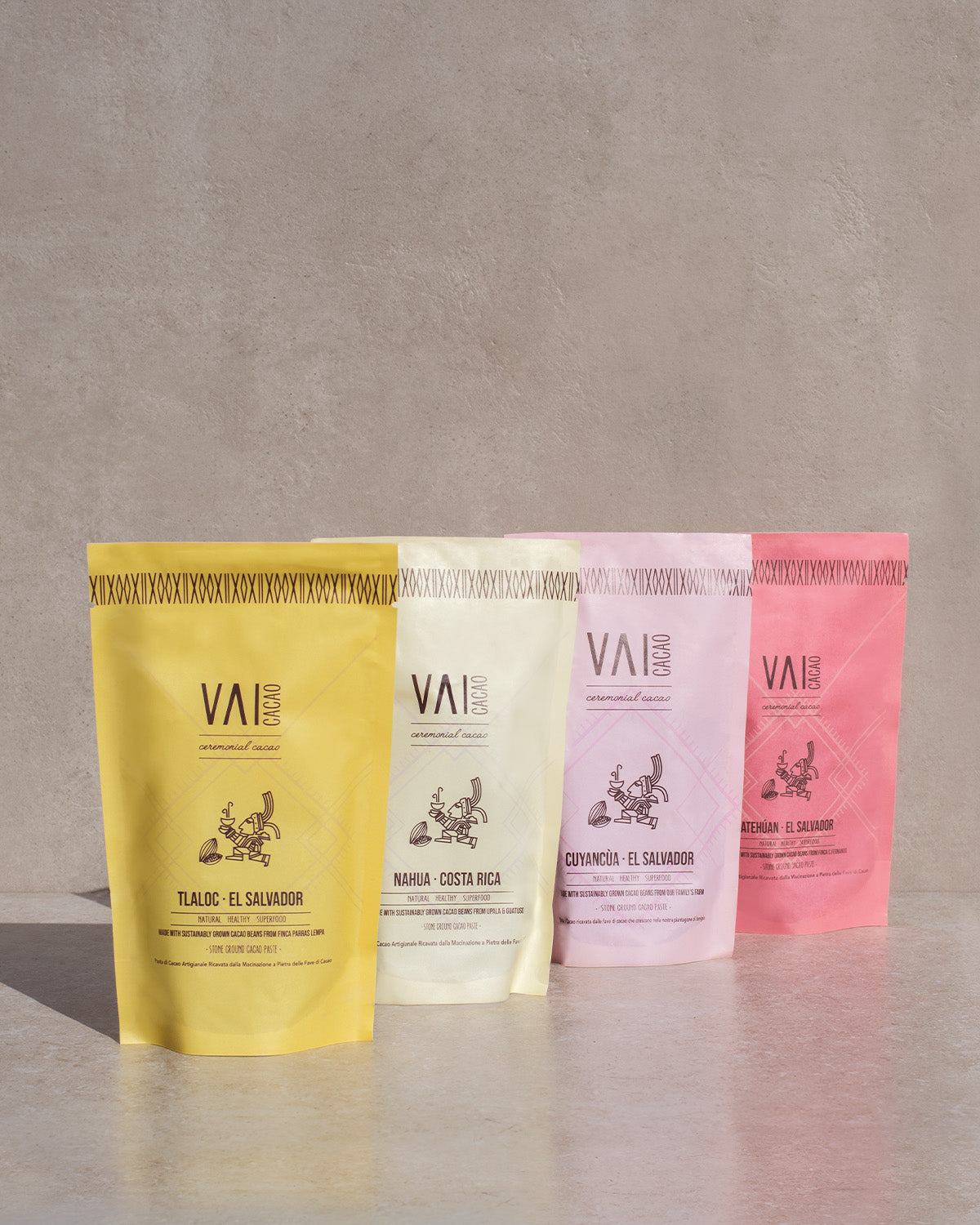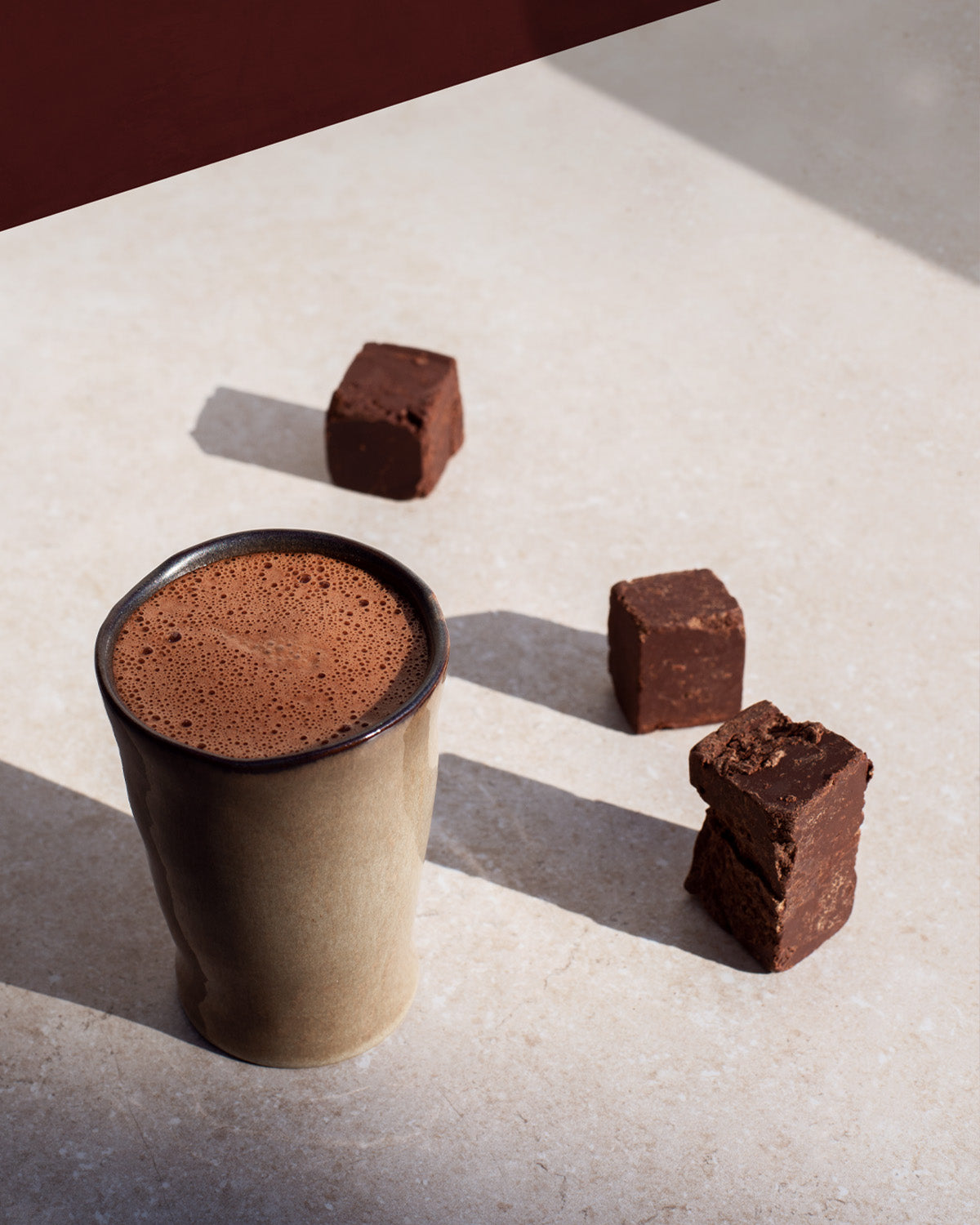 Ricevuto il cacao e un regalo!!!
Ottimo il cacao ma anche la spedizione con il biglietto scritto a mano di benvenuto! super
Cacao del mi corazon
Cacao la medicina del cuore, anche fuori cerimonia é un abitudine e rito di ogni mattina.
Giocando con i profumi aromi e abbinandolo con ogni tipo di frutta.
Come sempre prodotto di grande qualità e tanta cura e attenzione nella spedizione.
thank you
THIS IS CACAO.....
GREAT FLAVOUR....NOT YET ENOUGH COLD TO TASTE IT FULLY.....BUT WINTER IS APPROACHING.....HOME SWEET HOME, RELAX AND CONCENTRATION....THANKS